Dark mysterious fairy tales that bleed into the real world? With a promise of THAT it's obvious why I was more intrigued about this book then a piece of jam on toast! Which is saying SOMETHING because I love jam toast!
(but I read the book AND still made the toast because snacks are nutritious yes)
Rating:
I am a notorious dubious gremlin when it comes to hyped books and my smol expectations were low for this one dudes. BUT I ENDED UP LOVING IT? SO HERE'S ANOTHER UNPOPULAR OPINION but this time I'm nice!! Wow yes I am as surprised as you.
My blurb : Alice and her mom have been on the run because bad luck is following them like an overly attached puppy. And of course the mom has something mysterious she isn't telling Alice like a good YA mom she is. But Alice's grandma dies and then creepy things and fairy tales start happening!
The characters…aren't great.
– Alice had some serious shitty behavior going on and definite anger management issues and look I love a sharp angry girl as a protagonist (not all girls are nice and I definitley love seeing the ones that aren't in books too!!) but it was so hard to get behind her. Also if one more author names their character Alice* I WILL EAT A COUNTRY IN RAGE.
*(sorry to all Alices out there I only have a thing with your wonderful name in YA not otherwise)
– Ellery Finch was not much better in terms of interesting character-ness. I was actually dreading the romance with every fiber of my smol being because I hate the "boy has crush on girl from before the book started" for some reason unknown.
(ok so maybe the reason IS know and it's that I just find boys that obsess over girls for long periods of time creepy…but then again I would much rather eat unsalted broccoli soup then have a crush so take my word for what it is)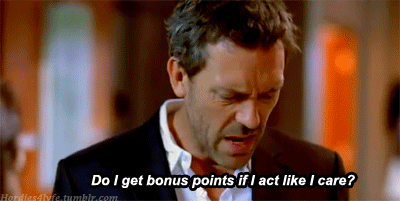 – The side characters? Even worse. I struggled to care for ANYONE for about half the book.
…AND YET.
–The creepy darkness!
It's tone confused at first sure BUT THEN. When the dark stuff really starts blending in better and it doesn't just look like a rare cactus in the middle of a pine forest IT GETS GOOD OK. The atmosphere is everything and it reminded me of creepy Fae stories with it's forest and murder and blood.
–The writing is seriously good.
I don't know why it stood out to me or why I liked it so much? But it had a SOMETHING I really enjoyed. It was detailed in the best of ways. Interest for the whole of 5 senses for the win!
–The world and timeline and events felt…real?
And thought out like the author planed it all like a conscientious time traveler with homework and then plopped some dysfunctional characters into this world and yey see how it reacts. Needles to say the world is not happy but you know…we never really ask the world what it thinks now do we. So atmosphere is on point!
–ALL THE INVENTED FAIRY TALES.
One thing I've realized recently is that I will probably read anything that closely resembles a fairy tale and bribes me with such promises of fantasticalities.
That being said ….*raises hand* Can I request a real Tales From The Hinterland? Come on publishers give it to me already you know you want tooo! I've got the money and you like money way too much to say no so I expect my copy with a bow on Amazon soon.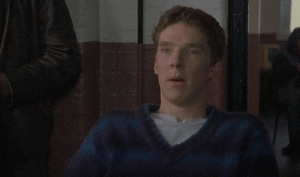 –I could not put it down!!
Or stop thinking about it. Damn you book taking over my mind space. It made me the obnoxious person in the book club that's all like:
Me: Ok guysss so I'm super busy at the moment so it might take a while for me to actually get around to finishing this book ok?
Sensible humans : Ah yes of course!! That's totally ok!!
Me: Oh really that's gREAT!! Because I FINISHED IT!
Sensible humans: Yeah wait what?
Me: Yeah 🙂 !! Check out my review 🙂 !!
Sensible humans: But-but-but…
…Ahahaha. Ups? I wholly blame the book for that!! It's the inanimated object's fault!!
–Favourite part: Entering the Hinterland.
It. Was. So. Good. My little frozen heart melted a bit. I loved the plot with the Spinner and the Stories. (and that's just a mild spoiler and out of context ok I'm trying to keep it spoiler free around here)
–THE ENDING WAS ABSOLUTE PERFECTION!!!
HAHA IT ENDED IN THE BEST WAY THAT IT COULD HAVE POSSIBLY ENDED. It didn't even cross my mind but heck if I didn't love every single thing about it. I was surprised the author chose it but IT FIT SO WELL.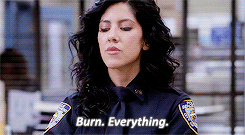 – The first part felt either too slow or too fast.
I can't remember exactly which one and this point doesn't even make sense so I apologize for the fact that I can't words good. But nothing was happening and then things happened really quickly and I remember being all over the place ready to complain about it in my review. So here it is.
– Alice at times got on my nerves for doing some crap stuff.
Like girl seriously stop raising your hand at people when you're angry (halfway trough writing this I realized there are some male characters that do this too but they are still loved by the masses HMMMMM…anyway STOP MAKING THREATENING PHYSICAL VIOLENCE OK). Also just fighting with Finch over arguing with cops seeing as Finch is POC is not. cool.
–The fact that I was waiting for a romance I knew I would hate for like 80% of the book.
Yeah it got tiring to get annoyed and scrunch up my eyebrows at every interaction between the leads after a while. I did not like the romance please oh so spare me the awkward talking and flirting.
My eyebrows are tired and they did not enjoy their time and neither did I.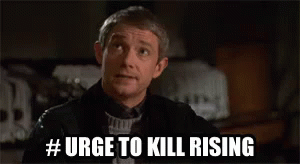 –AHAHA HAHA It didn't live up to the hype at all.
I went in with low expectations and prepared myself for a heartbreaking disappointment. So I definitely think I had an advantage by having a distrust of hyped releases. With no expectations or standard I had so much more fun but it wasn't what I expected when I first heard about it last year.
OVERALL: I NEED TO REREAD THIS!! IT'S A GOOD DEBUT!! Also is there any kind of sequel, spin-off, 15 other series I should be looking our for because YES PLEASE??
Seventeen-year-old Alice and her mother have spent most of Alice's life on the road, always a step ahead of the uncanny bad luck biting at their heels. But when Alice's grandmother, the reclusive author of a cult-classic book of pitch-dark fairy tales, dies alone on her estate, the Hazel Wood, Alice learns how bad her luck can really get: her mother is stolen away―by a figure who claims to come from the Hinterland, the cruel supernatural world where her grandmother's stories are set. Alice's only lead is the message her mother left behind: "Stay away from the Hazel Wood."

Alice has long steered clear of her grandmother's cultish fans. But now she has no choice but to ally with classmate Ellery Finch, a Hinterland superfan who may have his own reasons for wanting to help her. To retrieve her mother, Alice must venture first to the Hazel Wood, then into the world where her grandmother's tales began―and where she might find out how her own story went so wrong.
 What did YOU think about the book? Did YOU think it was deserving of the hype or was it just flaming rubbish? Do you compare books to jam toast?
TALK TO ME.