I read this book and I liked it so much I knew I HAD TO write a review!

THIS WAS A BUNDLE OF AWESOME AND GIRL LOVE AND FEMINISM!!! Squeeeeeeaaal all the squeal!! As someone who's nearly Viv's age I can say that I found this so inspirational and full of amazingness!!
I identify as a feminist! Because it's not a bad word! And it's definitely still needed (seriously look up intersectionality if you think the fight it over)!! So I'm always going to be excited about reading empowering things because it gives me motivation to pick up a battle axe and destroy my enemies!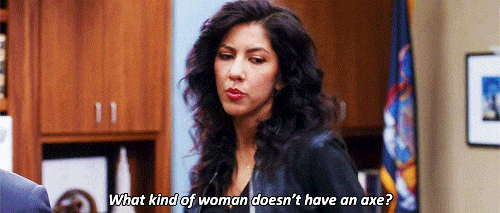 Rating :
– Topics addressed include:
+ sexual harassment
+ rape culture
+ discrimination
-It's about girls taking a stand.
Which I so very obviously LOVE! We always see this in fantasy and other novels obviously but I think we rarely see someone who, like Viv, is SCARED at first. She is scared to speak up, she is careful and quiet and not at all like the stubborn fiery girls we always see in YA (which I very dearly love too!!) to the point where I found her annoying at times BUT THAT'S HOW HUMANS WORK they have flaws!! And I loved how she learns to stand up and be a feminist throughout the book!
– All the female friendships!
Girls!! Being!! Friends!! Despite disagreeing and despite their differences!! And how open they were and how close! They cry and they hug and they talk! There was not a moment when someone looked at other girls clothes and thought something hateful.
– BOYS BEING FEMINISTS!! (because feminism is for everybody DUHHH)
I really really think boys should be thought to be feminists because it's not something that's degrading or just for women!! I loved that Seth just unashamedly drew stars and hearts on his arms!
– No slut shaming! Nada! None to be witnessed!!
Viv and Seth talk about sex openly and they decide it's something they want to do sometime. No other question asked. Viv is not slu shamed by her friends for this at all. She hasn't changed from her "goddie" personality into someone else just because she wants to have sex. A friend of hers is mentioned to having had a not so serious fling with a boy once and it's no big deal!! I JUST LOVED IT!!
– Mother-daughter relationships!!
Look I just have a weakness for mothers snuggling their daughters in bed when they are sad. Also talking openly to parents and parents trusting children and basically family!! Because it's often that the parents in YA are horribly sneaky or horrible in general and I'm always here for actually good bean parents.
– Stereotypes BE GONE!
The head cheerleader is actually a hardworking girl! And the BFFs actually get along and there is no fight about who likes who more! And the love interest is a dork but he also played rugby (IT IS RUGBY IN THIS BOOK RIGHT AMERICA PLEASE STOP WITH YOUR WRONG WORDS)!!
– Intersectionality!
Ok this wasn't AS discussed (and keep in mind I'm a white woman!) but it was addressed! How Viv experiences discrimination differently then her POC friends. How the Riot Grrrls were not as inclusive. And I liked seeing that because if you feminism isn't intersectional then it's not really feminsim! (quote stolen from somewhere)
– How Viv deals with Seth and their breakup!
Yes "NOT ALL MEN" but SOME MEN. Dick men still exist and that's not ok. I liked how it touched on how not directly experiencing sexism and oppression can skewer your views. How privilege can keep you safely ignorant.
In the end Seth accepted he was wrong and he promised to do better in the future because yes that's the key – ALWAYS KEEP LEARNING.
– All of the ice cream!!
Every time the mom would dig into some ice cream it was so #relatable. Same mom from fictional story. Same.
The end of this book especially was BEAUTIFUL AND POWERFUL!! I'll say that the book was slow at first BUT IT GETS SO MUCH BETTER and the ending was definitely worth it!! I now want to make my own zines and put them all over the school!! Also go check out the Tumblr for this book because it's honestly great!!
It's time to fight like a girl!

Vivian Carter is fed up. Fed up with her high school teachers who think the football team can do no wrong. Fed up with sexist dress codes, hallway harassment and gross comments from guys during class. But most of all, Viv Carter is fed up with always following the rules.

Viv's mum was a tough-as-nails, punk rock Riot Grrrl in the '90s, and now Viv takes a page from her mother's past and creates Moxie, a feminist zine that she distributes anonymously to her classmates. She's just blowing off steam, but other girls respond and spread the Moxie message. As Viv forges friendships with other young women across the divides of cliques and popularity rankings, she realises that what she has started is nothing short of a girl revolution.

TIME TO FIGHT LIKE A GIRL

A page-turning read with a feminist message, for anyone who has ever had to deal with #everydaysexism
Have you read Moxie? What did you think of it? What other books with #girlpower do you love most?
LET ME KNOW.