So the Internet has been raining with love for all the book bloggers recently and I've decided to get my nose out of my cave and just add to the love in buckets of gooey cheese feelings.
"But Ioana", I hear you say, "WHY DO THAT?"
Because book bloggers deserve love and appreciation!! And all the sweets! And sometimes hugs! And support in their plans for taking over the world! Please provide small army!! (Send me one trough the mail and I'll love you forever friend that's how you buy my affections)

Without further much ado about nothing, gentlemen and female gentlemen, I present to you…..drumroll please…
The Nominees
Best Pre-Teen/Teen Book Blogger (13-19)
– Ilsa @AWhisperofInk : I mean she's possibly not a teen blogger since she's got all that immortal queen gig going on. BUT I am graciously putting her in this category because that's the age she's been lying to us mortals on the Internet she is ergo I am inclined to trust her. Ahem. But her blog is legitimately so creative and an explosion of goodness and ice cream and humor and she's just so so amazing!!
– Ruby @RubyRaeReads : Ruby does pretty much everything on the blogging planet! From book reviews to TV show reviews to excited fangirling little bits of great!! (Also I'm super jealous of this girl's posting schedule seriously HOW.)
Best Adult Book Blogger (20+)
– Marie @drizzleandhurricanebooks : Marie is basically the bestest most kindest being. She works really hard on all her blogposts which are so brilliant, fangirls over books relentlessly, and has time to bloghop all over the place! The whole universe agrees that she's amazing ok.
– Emma @emmareadstoomuch : I have a smol weakness for really great negative and snarky negative reviews and unpopular opinions and Emma always delivers. Never disappoints. All her reviews are so well worded and the sarcasm is so strong with this one I like it greatly.
– Sophie @Blameitonchocolate : Let's just all take a moment to collectively appreciate how gorgeous that name is. And her blog is also full of so much chocolaty goodness I get hungry every time I read a book review! Her posts are forever incredible but you just get the bonus of delicious dessert which is always a plus in anyone's book.
Best Book Blogger from an Underrepresented/Minority Group
–Oliva @Oliviascatastrophe: THIS. GIRL. IS. SUCH. GOALS. I'm constantly in awe?
– Han @Handevoursbooks : One of my absolute faves and her posts have me laughing so much. (ALSO HER BLOG IS IN PURPLE!! Purple!! how much cooler can one get?!)
Best book reviews
– Lu @lureads : Lu's reviews are so much fun to read and her writing is so chill?? All the yes?? Do I admit to excessively stalking her every review on the blog and reading them all in a matter of seconds?…maybe so…
– Ilsa @AWhisperofInk : Ilsa manages to sneak into almost all categories and IT'S PROBABLY BECAUSE SHE DESERVES IT?? Things her reviews include: A. ice cream, B. fangirling if necessary , C. lists!! and D. all the awesome jokes.
Best Discussion Posts
– Marta @thecursedbooks : Marta is (besides being a favorite human of mine) also an amazingly brilliant bloggy person!! And this year has been her year dudes. She writes all the great discussions and brings up really great points and she basically says everything I think only that she manages to make it somehow have a bit more sense? And she uses words really great!!
Most Engaged in the Community
– Avalinah @Avalinahsbooks : She's done so much for the International book blogging community I think it's time we appreciate her loads! Also she writes the best blogging advice posts so check those out too!
Social media influencer
– Cait @Paperfury : Because wow. Her Bookstagram is incredible, her tweets are gold and she built herself a small army to buy her book*? #goals! Also her tweets always go viral these days and that's good the bookworm agenda is quickly spreading…excellent.
*which you can pre-order NOW! totally not #spon I'm just that excited lol
Blog Aesthetic
– Chloe @BlushingBibliophile : Her blog is so gorgeous my eyes always eat it up! Seriously even her first blogposts are so aesthetically pleasing and just? Let my eyeballs enjoy this gorgeousness for 200 years please. (+ her Bookstagram is pure goals as well! teach me your skills pls!!)
Best personality / friendliest member of the community
– Aris @akwardaris : She's probably the coolest dorkiest bean I've encountered while sailing on the Internet seas. Also she fangirls with people on all social media platforms and that's some kind of feat!
+best blogger in the universe
– Ilsa @AWhisperofInk : She's nominated in the category she invented because she asked.
The original post with all the rules and guidelines is HERE (made by Joce @ridetroughthenight ❤ )! Check it out yo!
About the hiatus….
Sorry but I won't be back until June! It's a really busy period at the school at the moment with all the damned finals from the pits of Tartarus. Also I'm taking my C1 level Cambridge Exam and I'm constantly being surprised by how bad I can be at writing.
It's been going a little like this:
Me: Yeah I'd say I'm decent at English…
Exam: Write 2 essays.
Brain: …
Brain: *sweats anxiously*
Me: …don't do it…
Brain: *switches to Romanian permanently, packs bags and leaves on vacation*
Excuse my muffled screaming in the pillows. I am fine this is fine.
BUT I'LL BE SHORTLY BACK IN MAY!! On my blogiversary!! I'll pop back for a bit there! Dragonwaffles is turning 1 YEAR OLD!! Such a smol tiny baby. I'll think of a celebratory post idea. Until then I'll hug you all and squish you and wish you happiness!!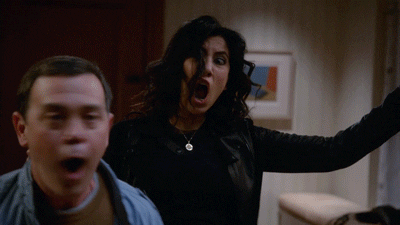 In the meantime I've been much more active on my Bookstagram so if you A. Want to see short reviews of what I'm reading B. Want to see #aesthetic pictures of books or C. Want to see stories of my cute doggo monster => FOLLOW ME! And send me a dm!! I swear I don't bite (much) and I'd love to talk with all of you!