So this is probably the MOST HYPED book of last year and I think I'm the last
person in the galaxy to read it. WHAT TOOK ME SO DAMN LONG???
IT'S INCREDIBLE. SO WORTH THE HYPE IN EVERY WAY. No joke this book took me out of a 3 month long reading slump. I finished it in 2 SCHOOL DAYS (sorry teachers during whose class I read it in but also not really…I'm so going to fail a test because of this).
Shout out to all the people that joined the buddy read (by Marta the wonderful human) and essentially witnessed my fangirling about this book on Twitter. I know I said that I'll probably don't get to finish it but then…it was just too good ok I had to devour it.
Rating :
!! Hi this is me gently squishing your cheeks and reminding you to READ OWN VOICES REVIEWS FOR THIS BOOK. I am white and I can in no way talk about this in depth since it's not my place !!
Here's a list of some:
Breeny @ Breeny's books  /  Steph's Rom Book Talk (if you want a different opinion – it's a 2.5 star review) /  ILivieforBooks  /  BooksAndBigHair
Ways in which this saved me from a slump:
I read like 300 pages IN A DAY. If only I could read books for school that fast.
Honestly I laughed so HARD
I carried it with me to all the mock exams
It was a great thing to hug
It's cuddly
It honestly reminded me so much why I loved reading??
Thank you book
– IT'S. UNAPOLOGETIC.
There's so much culture, the characters speak AAVE (look that UP because it's so interesting) AND IT'S NEVER EXPLAINED for the poor white people that might be reading this. It's not written for white people to understand black culture, we never get to sit down and have it explained to us word for word. IT'S WRITTEN WITH PEOPLE IN MIND. And it makes no excuses.
-The look into American culture.
I didn't know 80% of the stuff in this one single book. Yes I know about police brutality – though I never understood how guns actually affect day to day lives* OUTSIDE of trading hashtags on Twitter. I can't imagine the feeling that anyone near me can own a gun or that a policemen can shoot you.
As for racism: I didn't KNOW how recent and how many and for how long these hurtful actions lasted for. Segregation and institutionalized racism? I just can't wrap my head around it but I have to because it's real and if we just ignore it and pretend it never happened we are ignoring history.
*can guns just?? not?? anymore?? sure give people murder weapons and be surprised there's murder and the still not doing anything to like maybe stop that idk "gungs don't murder people people murder people" sounds fake but ok
In Europe it's different (or at least in my very extremely white country it is) but I've heard stuff like "Oh they are European they can say the N word because they grew up differently"…..ummm…no?? We all KNOW what it means if you don't you're just ignorant and being European is no excuse.
-THE FAMILY!
I loveee love LOOVE the family. Everyone is so present and so unique and ahhh. I have a soft spot for supportive families.
Starr's relationship with her mom and dad reminded me so much of my own parents! Which I am very close to!! And yes we argue and I still don't listen to then all the time (let's not get TOO ahead of ourselves here I'm still a teenager we have like a secret pact that we have to follow which consist of periodically saying no and being stupid) but we still care about each other a lot.
Also her dynamics with her grandma (I loved the grandma) and her parents being her OTP (soooo cuteeeee) and it just made my weak heart beat a tad.
"At an early age I learned that people make mistakes, and you have to decide if their mistakes are bigger than your love for them."
-THE CHARACTERS!! ARE GREAT!!
You know cardboard tasting, 2D sticker characters? WELL ANGIE THOMAS SAID NO and flipped backwards and made sure that all the characters were complex because she's amazing like that.
They had lives and felt real and sure they were flawed (like most human beings are remember?) they messed up and they didn't exist only when we needed them to exist.
One I especially ended up loving was DeVante who was just my smol bean-y son that I was so glad got totally legally adopted by Starr's parents and you can't tell me otherwise!
-Star is a great protagonist.
She's a sneaker dork, she loves her family, she's protective, she's brave, SHE EATS A LOT (thank you book that has girls eating second portions and greasy food THANK YOU), she has a good heart, she's FUNNY AS HECK, she likes basketball etc.
I loved her and her personality BECAUSE LOOK A MULTI FACETED PROTAGONIST that has interests outside the main plot, quirky stuff they are passionate about outside of school and complex relationships with people.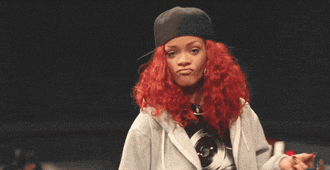 – GANGS!
I didn't know this would be in here. I've never read a book that had street gangs and delved into that before. I found that I quite like it even though I DID NOT EXPECT THAT when I first started reading. I didn't even know what was going on so I was confused for about 50 pages because I SWEAR THE BLURB DIDN'T MENTION THIS WHAT'S HAPPENING HELP?! BUT THEN I got really interested and I started going down Wikipedia wormholes.
-It is an emotional roller coaster.
This book makes you FEEL ALL THE FEELS! It really has every single emotion and my smol self that possesses only 1 on a particularly fortunate day had to adapt because WOW. It has funny moments (SERIOUSLY THE HUMOR IS GOLD) lulling you into a false sense of security then proceeds to hit you in the feels and makes you unbelievably sad and after a few pages you're angry and want to burn down a city then you're happy again. And it's done so well all through the book.
"Brave doesn't mean you're not scared. It means you go on even though you're scared."
– The writing could sometimes be a biiiit too descriptive.
Don't get me wrong it really adds to the whole setting overall and Angie uses all the senses like a pro (I appreciate all the food ok I APPRECIATE IT YOU KNOW ME). It helps make the book feel authentic but it can sometimes be a bit much. If it's pointless and it adds nothing to the overall story – it. doesn't. have. to. be. there.
OVERALL: THIS BOOK IS SO SO IMPORTANT AND POWERFUL. IT'S DEFINITELY A MUST READ!
And you know that when you close the book it's not the end of the story. THIS STUFF IS REAL AND IT STILL HAPPENS TODAY. It makes you think and it make you angry and I think that's great.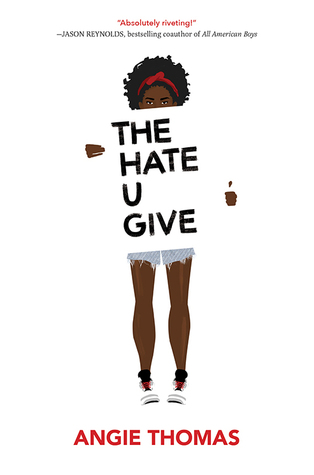 Sixteen-year-old Starr Carter moves between two worlds: the poor neighborhood where she lives and the fancy suburban prep school she attends. The uneasy balance between these worlds is shattered when Starr witnesses the fatal shooting of her childhood best friend Khalil at the hands of a police officer. Khalil was unarmed.

Soon afterward, his death is a national headline. Some are calling him a thug, maybe even a drug dealer and a gangbanger. Protesters are taking to the streets in Khalil's name. Some cops and the local drug lord try to intimidate Starr and her family. What everyone wants to know is: what really went down that night? And the only person alive who can answer that is Starr.

But what Starr does or does not say could upend her community. It could also endanger her life.
Have YOU read this book? Or are YOU being eaten alive by your TBR and don't even knoe where to start (START WITH THIS IT'S GREAT!!)? What did YOU think of it? Do you know any more #ownvoices review that I could read/watch? Leave them bellow.
LET ME KNOW!