Since that day when society conditions us to think we HAVE to have a partner in order to be happy in life is fast approaching I thought hey it would be great idea to list some of my favorite romance tropes! Because I have a feeling occasionally and it's most likely because of these tropes.
Ok so if you know me you might also know my tendency to scrunch my nose and run away if I ever hear the words "romance" and "love". Because I am a firm conformer to the saying why make out when you can make a plan to take over the universe and all it's star systems. You know…I like something practical like that.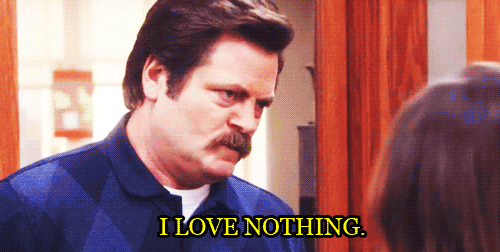 And yet despite all the horror of kissing I sometimes admittedly may have a feeling because there are tropes that melt my smol frozen heart with their incredible cuteness.
(!! Also I am aware that the "aro/ace person with no feelings is a damaging trope that exists in media and I wish it would stop. I for one have 1 feeling and use it on occasion but I'm not speaking for all ever. Let asexual people fall in love because they deserve happiness 2k18 !!!

Enemies to friends to lovers
The best romance trope out there and I will don my armor and fight you on this one. It has the drama and it has the cuteness it's like a vanilla and chocolate cake : vastly superior, satisfies everyone and has the best of both worlds.
AND HAHA THIS IS THE ONLY ONE I LIKE. We can all go home now this is just going to be the only trope on this list. Oh what…what do you mean a list is made up of more than just one thing? But…but I like this one thing very much do I really have to list others too? Ugh fineee.
Friends to lovers
…WHA- what do you mean this is the same thing? It's obviously totally different! Leave me alone Susan who's making this list yeah that's right this blog's mine and I can list whatever I so please.
So how's this one different? Well…less drama but it's full of fluffy cuteness overload opportunities galore.
The Unrequited
…
Ah ok this one's tragic and we want fluffy cozy feels I gotcha.
Mutual Pining
I love soft dorks that can't feelings good. It's adorable and cute and I wanna strangle them but also awww. You know when this one's at it best feel-y self? When they are friends and they don't want to confess because they don't want to ruin the friendship.
Provides optimal amounts of angst and feels.
The Alpha Male that is totally fine and not at all toxic see I promise
Wait so you mean to tell me – a teenage girl that has never had any romantic experience in her smol life – that THIS is not how a relationship should look like? REALLY? I am truly shocked. Utterly outraged. It's like the representation of romances in fiction is often unrealistic or something.
…I hate this one and I wish it burned to clarify in case the heavy sarcasm didn't give that away.
CHOCOLATE
My personal favorite trope. The chaotic good of romance tropes. When all else fails just chocolate.
(I said I can write anything on this list don't ever doubt me again.)
I hope I cheered you up in case you're single and sad (hey you can be single and happy) because hey having a special other on an exact date dictated by society isn't that big a deal. And if you DO have a special other that's great I'm happy you're happy.
Valentine's Day can be a day of whatever love you want so hug your boyfriend / girlfriend / bestfriend / mom / dad / dog or whatever dragon egg you are preparing to hatch!
!!! And please don't leave a comment trying to explain romance to me or that I just "haven't found the one yet" or "I'm too young to get it" because I've heard those things before a thousand times and believe me I'm aware of them…that doesn't mean I like hearing them over and over.
How about we talk about cake instead huh? That's way nicer.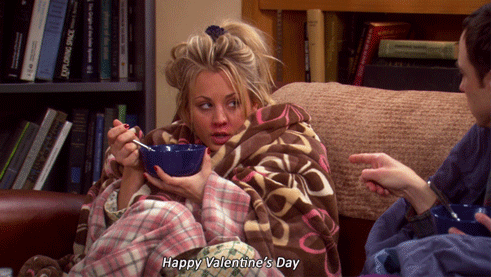 So what are some of YOUR favorite romance tropes? Did I miss any (PROBABLY)? How are you going to spend you Valentine's Day?
LET ME KNOW.