Guess who just finished a really good TV show and needs to excitedly fangirl about it?…It meee!
In case you didn't know this about me: I am a massive fangirl. Wohoo big surprise there I think a total of 3 people are shocked, some of you I'm sure didn't even see that coming. And once in a blue moon, when the planets align, I watch (and finish!!) a TV show that I really like and I spend a whole post waffling about it.
(Sorry this isn't my usual type of post…Can I bribe you with cookies to stay? Look I've been told multiple times that if I want people to read my blog I got to bribe them with food so I'm trying here.)
 The whole universe is watching Stranger Things these days right? If you've never heard or watched it 1. Hi was it cozy under that big rock of yours? and 2.Go forth my young padawan and enjoy the wonderful masterpiece that is this show.
Reasons why you should probably watch Stranger Things (if you haven't already):
monsters
my one tragic daughter, Eleven
you're going to adopt 5 children
80s' nostalgia (that I don't get)
Stephen Kings vibes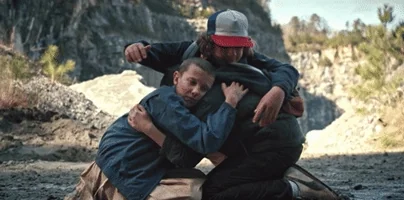 I'm not going to spend much time talking about season 1 (mostly because I remember exactly nothing) so here are my very brief thoughts: I really liked it but I didn't find it that scary and I thought it was a tad bit over-rated.
 SEASON 2 ON THE OTHER HAND? WAS INCREDIBLE from start to finish!
The cinematography was so good, the directors had fun with the bigger budget and IT SHOWS. Thank you, Duffer Brothers for blessing my eyes with incredible scene transitions (yes I am a sucker for good and creative film making and BOY DOES THIS ONE SHOW). I'm so glad I noticed that because I HAVEN'T SEEN ANYONE talking about it which is such a shame. Peoples: THE CINEMATOGRAPHY? AMAZING!
I think that this season was so much more character driven. I know most people have issues with the plot and all that but I adored how we explored everyone dealing with the events of the first season. I think that's why I don't mind plot holes and half explained plot thingies. I think it's way darker and disturbing.
 
The Duffer brothers do this amazing things when it comes to their characters: they play on the dynamic between them and IT WAS ABSOLUTELY INCREDIBLE.
 Eleven: She was my sweet, sweet daughter who suffers from trauma since she was abused as a child. Her scenes with Hopper were heart-breaking because you wanted it to work out but both characters have issues and stuff to deal with and it can't just all be sunshine and rainbows.
Mike: He wasn't as much a main character this season as the last but I really liked him. He's one of my absolute favourite characters and Finn Wolfhard does and AMAZING job seriously. He's a soft boy that cares so much for his friends but it really pissed me off that he was so mean to Max for no reason.
Dustin: I loved Dustin but than what else is new. I think he made some stupid decisions but…he's my son…
Steve: IN THIS HOUSE WE LOVE AND RESPECT STEVE OK. I've loved him since season 1 and that hasn't changed. I just loved how he fully embraced the soccer mom role and cared for all his children and punched things for them. Honestly the Steve memes are the best thing that came out of this season.
Will: Give this kid an Emmy his performance was incredible. It was scary and hart-breaking and so so sad. The way he struggled with everything that happened in the first season is tragic and I JUST WANT HIM TO BE HAPPY.
Lucas: Oh yeah he gets a girlfriend…I guess? He's not my favourite.
Max:….Also oh yeah she was there. I felt bad for her really but I didn't warm up to her until the end so. I would really love for her and Eleven to become besties though?? We need more girl friendships that don't end in death on this show (cough Nancy and Barb worked out…great… cough)
Nancy: Haaa…I never really cared for her and Johnny boy?? Look I don't "do" romance, I am an unfeeling lizard. I liked that she knows how to be a badass and shoot demogorgons, and she adorably danced with Dustin so I guess I liked her a bit.
Hopper: Awe he has his issues but I love him seriously. (do I not love anyone on this show?…except Johnny boy??). He adopted Eleven and I was so happy.
Joyce: Can she be happy?? Please?? Just…make Joyce happy for once…let her be with Hopper and live a long tragic life with their 3 children.
SPOILERS
Bob's death was so predictable and yet I hoped against all hope in those last scenes that he would survive. Also that last scene where  we see him being eaten by demodogs WAS UNNECESSARY OK just *sniff* leave my son alone.
Stranger Things creators: YOU REALLY SHOULDN'T BE TRUSTED WITH CHUBBY SIDE CHARACTERS WHOSE NAMES START WITH B. I need to protect my babies from you and bake them cookies and make sure no harm comes to them.
Also I didn't dislike ep 7?? Which seems to be an unpopular opinion but ok. I didn't dislike Eleven's sister and I didn't feel like it threw the pace of the story too much. *ducks behind bookshelves to hide from mean people that are going to come at me to explain why I'm wrong and my opinion is wrong*.
Things I want to see in season 3:
Will having one happy day
Eleven and Mike being the fluffiest, softest, power couple ever
Eleven becoming friends with Max because hey we need some girl friendships here
BAD ASS KIDS
Max's brother getting bet up by all the kids preferably with bats
Hopper and Eleven getting father-daughter bonding time
STEVE
I just want more Steve please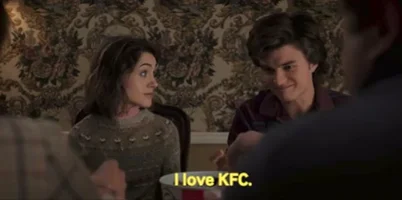 Plus can we just appreciate how on brand for me the Eggo Waffles are? Finally some waffle appreciation UP IN HERE!

LET'S FANGIRL TOGETHER! Have YOU watched Stranger Things?(You totally should just sayin') What did YOU think of it?? Any other TV Shows you've been binging recently?
LET ME KNOW.