The full moon has risen (probably not), wolves are howling and bats are flying: All Hollow's Eve is neigh! And what better way to celebrate than TO TAKE OVER THE WORLD SINCE IT'S SOCIALLY ACCEPTABLE FOR ONE NIGHT MUAHAHAH ahem…Ignore that.
 But I did in fact want to make some spOOooOpy posts this October. Did I succeed? Somewhat. I am a masterful witch therefore I shall say I have succeeded. Now I deserve to eat all the candy.
 But enough about BOOKS (that was last post) let me spook up your day by compiling a list of spoopy movies/tv shows/cartoons/music for your little vampire heart.
Movies
Can we all just agree that there is a HUGE difference between a Horror movie and a Halloween movie? You know exactly what I mean. Halloween movies are less blood and more candy. Which is exactly how I like them.
Twitches

: Breath in the air of October and childhood nostalgia. If you didn't know: My country didn't have Disney Channel until 2009 so we got to watch all the old movies! HA!
Hotel Transylvania :

THIS IS A PERSONAL FAVOURITE OF MINE OK. 1. It takes place in Transylvania 2. Mavis is a little emo vampire and 3. IT'S JUST SIMPLY HILARIOUS!
Scooby-Doo on Zombie Island

: THIS. WAS. TERRIFYING. I couldn't finish watching it the first time and then I couldn't sleep. You know how in every single Scooby Doo movie the ghost is someone disguised?? WELL IN THIS ONE THEY WERE REAL MATE! WHY WOULD YOU DO THAT TO ME?? Nightmares for my little brain FOR YEARS
Tv Shows
Stranger Things : Kids running around fixing things because adults are too busy being adults to notice the apocalypse is honestly the best thing ever.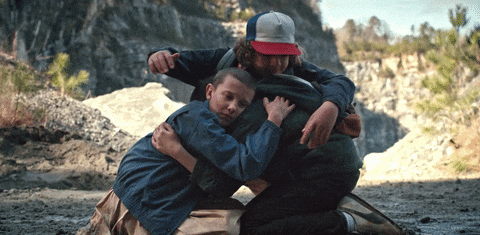 And some of my favourite cartoons (because let's be real nothing is ever going to make me give up watching cartoons…I AM NEARLY AN ADULT I SWEAR!! No I don't eat candy for breakfast leave me alone Susan.)
Little Witch Academia :

I love anime and this is probably Japanese Harry Potter with gorgeous animation and girl friendships!

Over the Garden Wall :

GO WATCH THIS ONE NOW. IT'S THE BEST SHOW EVER. It's a retelling of Dante's Inferno but with dorky music, autumn vibes and lovable characters.
You could also watch Buzfeed Unsolved and please your demon hunting heart.
Playlist
It's almost Halloween by Panic! At the Disco
Disney Halloween Mashup by Paint
Into the Unknown (Over the Garden Wall theme)
Spooky Scary Skeletons 2spoopy4me 10 Hour Remix
Decoration DIY
If you're like me and you are one lazy bean but you still want to decorate your house:
fear not dear human because Ioana is here to show you how to make your house spoopy and to really connect with your inner diy Pinterest mom all while remaining a huge lazy lump!! Step 1: Get yourself a marker because ain't nobody got time for carving.
(I recommand a black one but I didn't have one so I had to improvise)
Step 2: Get mad because the marker betrayed you and is actually rude and doesn't work.
Step 3: Get yourself a marker that is there for you because you deserve it gurl.
Step 4: Draw on some eyes or whatever you little heart wants. Let your creativity run free.
(I drew mine like that because the pumpkin refused to stand upright)
Step 5: Voila you have a spooky pumpkin CONGRATULATIONS!
 I hope you've enjoyed all my silly little recommendations (and I'm actually so sad that I've discovered all those spooky photo filters at the very end don't mind me just casually replacing all the photos with creepier ones)!! Have a spooktacular night and if you do actually make that pumpkin tweet me pictures I WOULD LOVE TO SEE YOUR DORKY CREATIONS!
What are YOU doing this Halloween? Favourite Halloween memory? Do you carve pumpkins or just draw them? What are the sweets you most adore devouring??
LET ME KNOW. HAPPY HALLOWEEN EVERYONE!